Contact Us
Address:Room 1509, Building 1, Zhongjian Jinxiu Plaza, Jinan, Shandong, China
Galvanized Corrugated Sheet
---
Galvanized sheet refers to a steel plate with a layer of zinc plated on the surface, in order to prevent the surface of the steel plate from being corroded and prolong its service life. Mainly used for air conditioner indoor unit backplane, cabinet backplane, internal parts, shell, etc.
Contents
PPGI
PPGL
Base metal
Galvanized
Galvalume/Aluzinc
Standards
JIS G 3312-CGCC,CGC340-570,G550 ASTM A-755M CS-B SS255-SS550
JIS G 3312-CGLCC,CGLC340-570,G550 ASTM A-755M CS-B SS255-SS550
Thickness
0.12-4.0mm
Width
600-1450mm
Coil ID
508/610mm
Substrate
soft medium hard
Coating mass
Z40-275(g/m2)
paint systems
primers:Epoxy,PUTop coating:Polyester(RMP/PE)Silicon Modified Polyester (SMP) Poly Vinyl Di Flouride (PVDF)Back Coating: Epoxy, Polyester, PU
coating
20-50 Microns
colours
As Per NAL chart/Customer requirements.
surface finishes
Glossy and Matte
cut to length
200mm-5000mm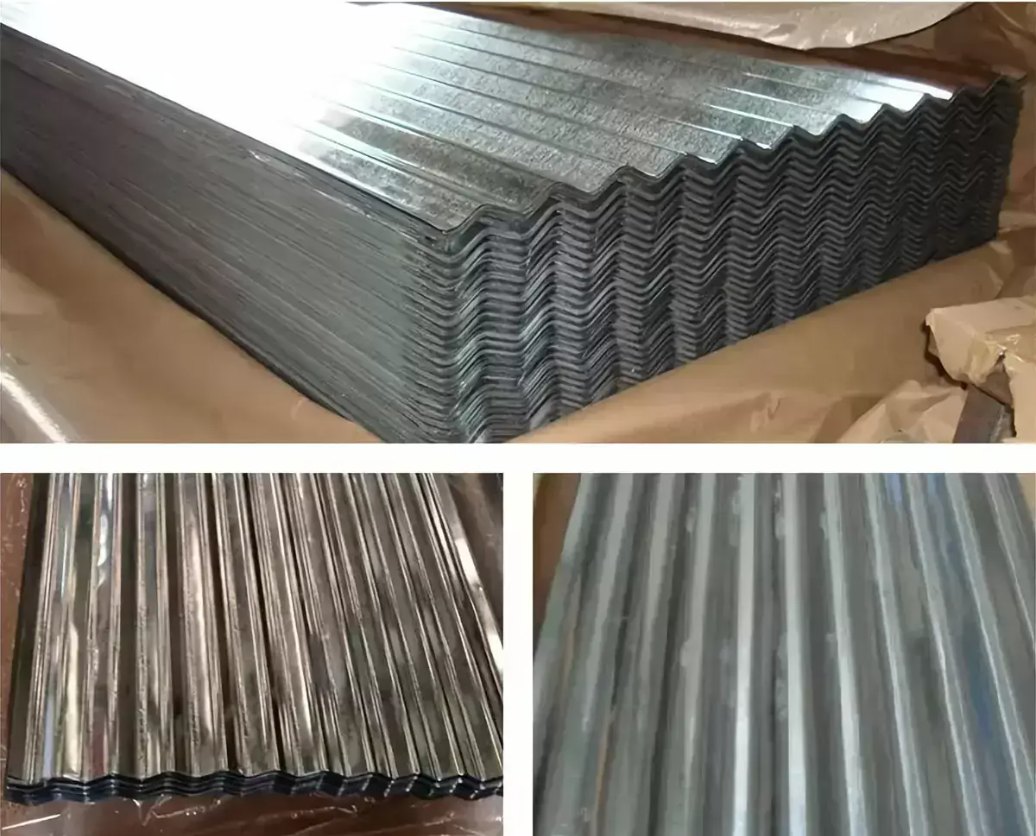 Product Advantage
It is not easy to rust, easy to process and beautiful.
It can strengthen the corrosion resistance and penetration ability of parts.
It has excellent welding performance and long service life.
It is widely used in construction industry, home appliance industry, automobile industry and other industries.
Product Application
1. The industries of galvanized product design mainly include air conditioner manufacturing, washing machine motor casing, drawer slides, solar brackets, vehicles, etc.
2. Cold-rolled galvanized is mainly used for security doors, ventilation ducts, cable trays, floor boards, fire doors, office furniture shelves, etc.
3. Hot-dip galvanized sheet is mainly used in construction, home appliances, automobiles, machinery, electronics, light industry and other industries.

Product Packing
Product Shipping
Why Choose Us
1. Nearly twenty years of experience in steel trading.
2. Factory direct sales of products.
3. 24 hours to solve pre-sale, in-sale and after-sale problems.
FAQ
1. Is the sample free?
Yes, we provide free samples, but need to charge the shipping fee for the samples.
2. The desired size is not within the specification, what should I do?
It can be customized to your needs, but it will take a few extra days.
3. How to make payment?
We take the payment terms of deposit, and you can choose T/T, L/C, Credit Card, Paypal and other payment methods according to your needs.
4. Is it possible to visit the factory?
Of course, as long as you need, factories and companies can come to visit at any time, and due to the epidemic, video tours are also available.
undefined